Installation Gudiance:
Peel and Stick Tile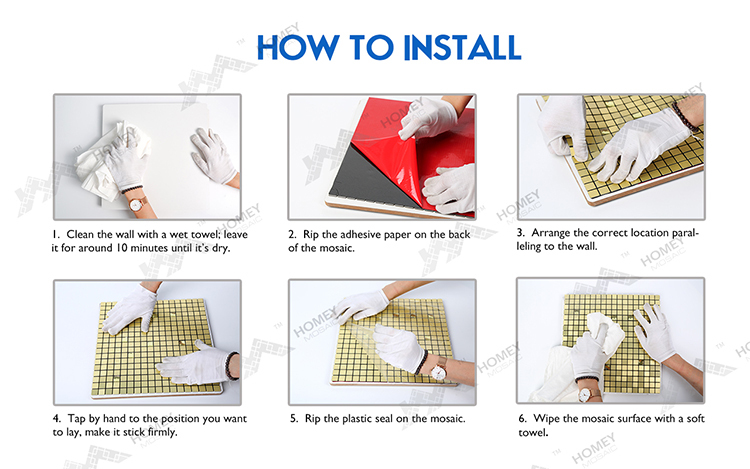 1.Clean the wall with a wet towel;leave it for around 10 minuites until it's dry.
2.Rip the adhesive papaer on the back of the mosaic.
3.Arrange the correct location paraleling to the wall.
4.Tap by hand to the position you want to lay.make it stick
5.Rip the plastic seal on the mosaic.
6.Wipe the mosaic surface with a soft towel.
Metal Mosaic Tile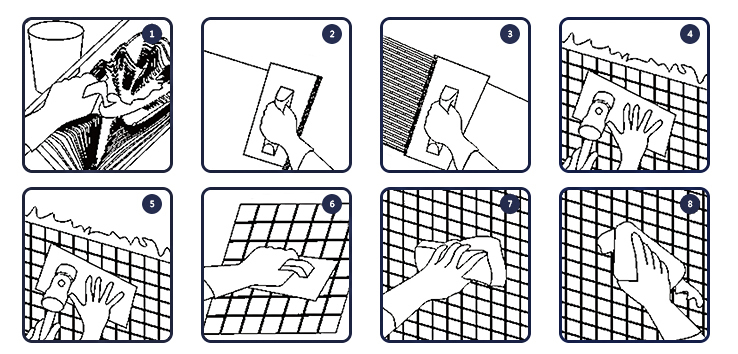 1. We suggest adopting professional binder and joint filler, and parts of our products adopt neutral adhersives.
2. Use professional grey knife to scrap 2-3mm thick paste binder after cleaning the surface.
3. Use dentations trowel carve to score out waviness on the flat mushy adhesive.
4. Paving mosaic, pay attention to the seam between products themselves remain the same width slit.
5. Tenderly pat the surface of the mosaic and leveling them to make sure it is adhesive evenly.
6. About 20 hours later when the mosaic is totally adhesive, use special sponge knife to fill the joint fillers in the gap (soft tool to prevent damaging product surface).
7. After 30 minutes, when the joint filler is semi-dry, use wet high density sponge to fill into joint 1-2mm, which can better show the highlight effect of the product.
8. Use dry towel to clean and finish the installation finally.
Warm Tips:
1. A pair of glove is necessary when you pick up the tiles in case any wound by the metal edges.
2. If the tiles got fingerprints on the surface, a wet moth with clean water or industrial spirit would be able to remove the fingerprints.
3. We suggest book 1-2 sheets more than your order quantity in case any scratches or damages
on the surface.
Sorry, there are no related products !

Your cart is currently empty.