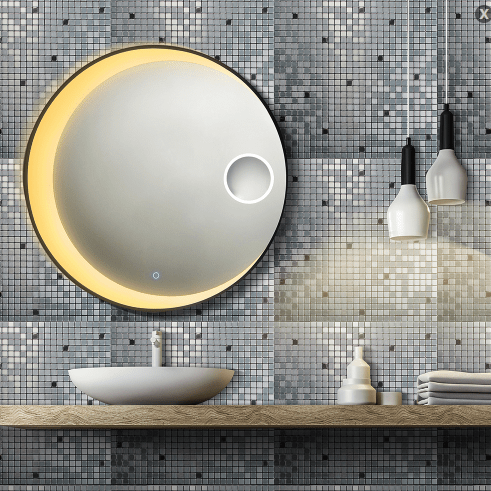 What is Peel and stick wall tile decor?
Friday, 23 April 2021

2

2154

1
One of the best home improvement projects that you can do in your kitchen is to install a backsplash or update your current one to a mosaic backsplash.
Small tiles made of glass, ceramic, metal, etc., can be combined to make a larger pattern or image to make a mosaic backsplash. You can install that behind a sink or a stove. Some homeowners make their backsplash cover the entire wall above the kitchen counter, while others decide to cover only a portion near the stove to prevent cooking splash from staining the walls.If you want to make your kitchen truly beautiful, then adding this kind of backsplash can do just that. It can give your kitchen a unique look with a combination of colors and texture and turns your small kitchen space into something visually interesting.
Materials, Styles, Colors, and Shapes
The material of the backsplash is the first thing you need to decide on. There are many choices when it comes to materials including glass and ceramic, to many types of granite or stone. Ceramic and synthetics are the most affordable materials. The most expensive ones are glass, stone, and other natural materials. The material you choose will ultimately depend on whether you want to match your existing kitchen design or if you will use your backsplash as a unique addition to your kitchen design.
If you use glass, then your design will be brighter and more reflective, and if you use granite or stone, then you get a more matte feel. If you want easy maintenance, then you should choose ceramic, tile, or porcelain. These do not absorb stains and odors. Stone tiles should be a dark color and if you don't want them to show wear or stains, then you should mix them in with other mosaic materials. What will eventually help you decide on the material to use is your budget.
When it comes to colors and patterns, you have an unlimited number of choices. You can choose from simple, black and white, multi-colored, and intricately patterned style, staggered, or patterns showing pastoral or classic art scenes. Tiles also vary in shape. There are the traditional round or square styles, and there are also other geometrical shapes like hexagons, triangles, and others.
If you include small mosaic tiles into a field of large, simpler tiles, then you have a cost-effective way of adding mosaic into a backsplash. If you install a row of differing mosaic tiles above or below a plain white tile backsplash, then you can achieve a wonderful classic border treatment. This gives a custom look to your kitchen backsplash.
Your backsplash can also be made of simple patterns or fancy tile patterns. You can also buy tile borders in many different patterns which are very easy to install.
If you go for complex patterns like images or scenes, more multi-colored patterns, and the like, then you need to spend on this backsplash. But when they are installed properly, then it will look great in your kitchen.
Choose beige, white, cream, and other natural tones to create a backsplash for a classic, simple kitchen area. This is a popular kitchen design style. This will give your space visual diversity, color, and appeal. You should select a color theme that will match your kitchen's overall theme, and find tiles that would work well there.
If you want a contemporary kitchen, then you could use black and white tiles and pair them with bold colors like red and orange.
Benefits of Mosaic Backsplash
When you see the final result of your beautiful backsplash, you can be proud of it. You can impress your family and friends who come to visit. The value of your home can increase. Or, you can just satisfy your attraction to beauty. Installing a beautiful mosaic tile backsplash is possible that fits your design plans and your budget.

Your cart is currently empty.