Homey Mosaic | metal mosaic,peel and stick tile backsplash,stainless steel mosaic
Peel and Stick Tile Backsplash Aluminum Surface Mosaic Tiles for Kitchen Wall
Peel and Stick Tile Backsplash for Kitchen Wall Aluminum Surface Mosaic Tiles
❤Welcome to HomeyMosaic online store!Homey Mosaic Self-adhesive Metal Tile, made of Aluminium Composite, which has been using for interior decoration for over 20 years.❤

Space is the container of life with the color of the tune, the days into poetry.

✔Widely Used in DIY Decoration

Help to decorate your house. Just use your imagination to create your new stove ,sink and RV backsplash for kitchen, fireplace exteriors, patio top, mirror frame, table top, stairway sticker and more to explore.
Its standard and cut-size, easy cutting, drilling, and fixing allow everyone to make up his own wall pattern, self-matching design, and complete in hours.

✔Simply "Peel & Stick" on any Clean and Smooth Surface

Simply peel off the backing stickers then stick it on any clean, flat smooth surface with NO wet glue, NON-cement.
Cutting as easy as a thin plywood, with NO heavy tools. So you can save your time and money on labor. Glue is strong and long-lasting.

✔Easy to Clean, Safe and Durable

The metal surface no color fading, anti-scratch and splash.
On its metal surface, grease can be just wipe-n-clean easily. The Aluminium composite is fire retardant and waterproof.

✔Cutting and Installation

Easy to cut tiles, don't require spacers or grout. Tiles bend to create perfect corners with less cutting and no wasted offcuts.
If there is a need to cut to fit in, use a utility knife, just following the seam between the individual pieces. But if you need to cut through the pieces, please use the:
- Jigsaw or chop saw (recommended)
- Hacksaw
- Hole saw or coping saw
Package: There are 5 sheets in a box covering 5 square feet(12*12 Inch per sheet). 1% extra wastage is recommended in every project.Tiles should not directly contact with flames or submerse in water.Only recommended for clean and smooth surface.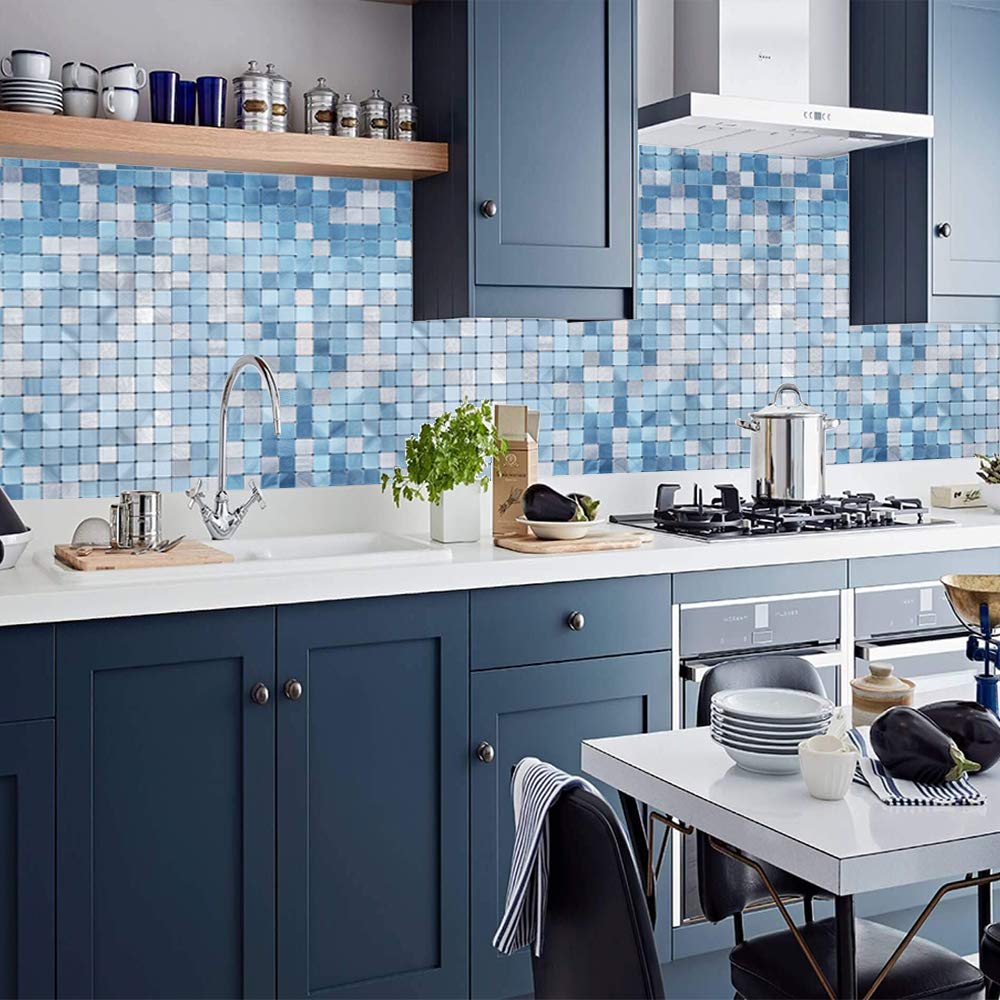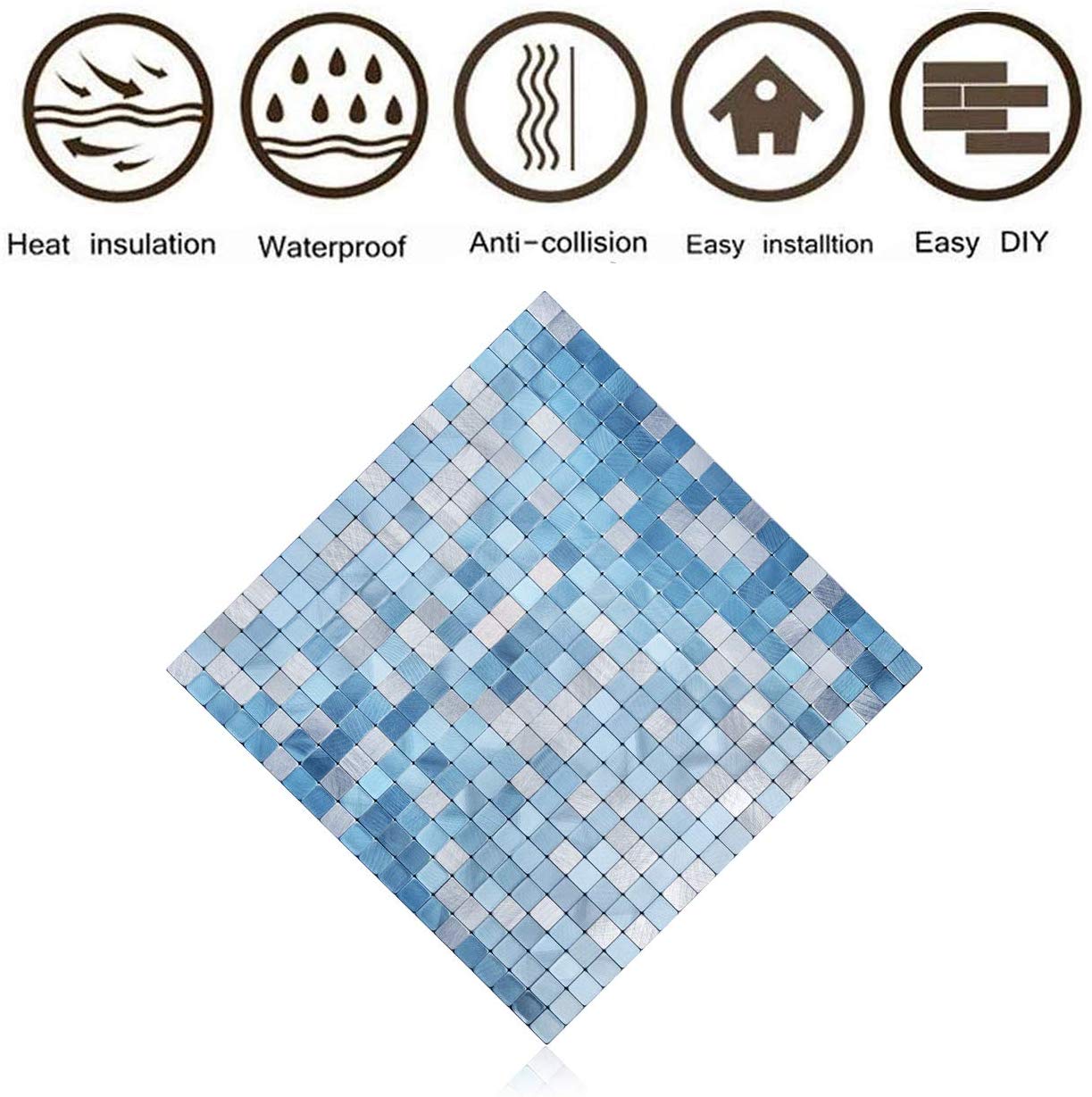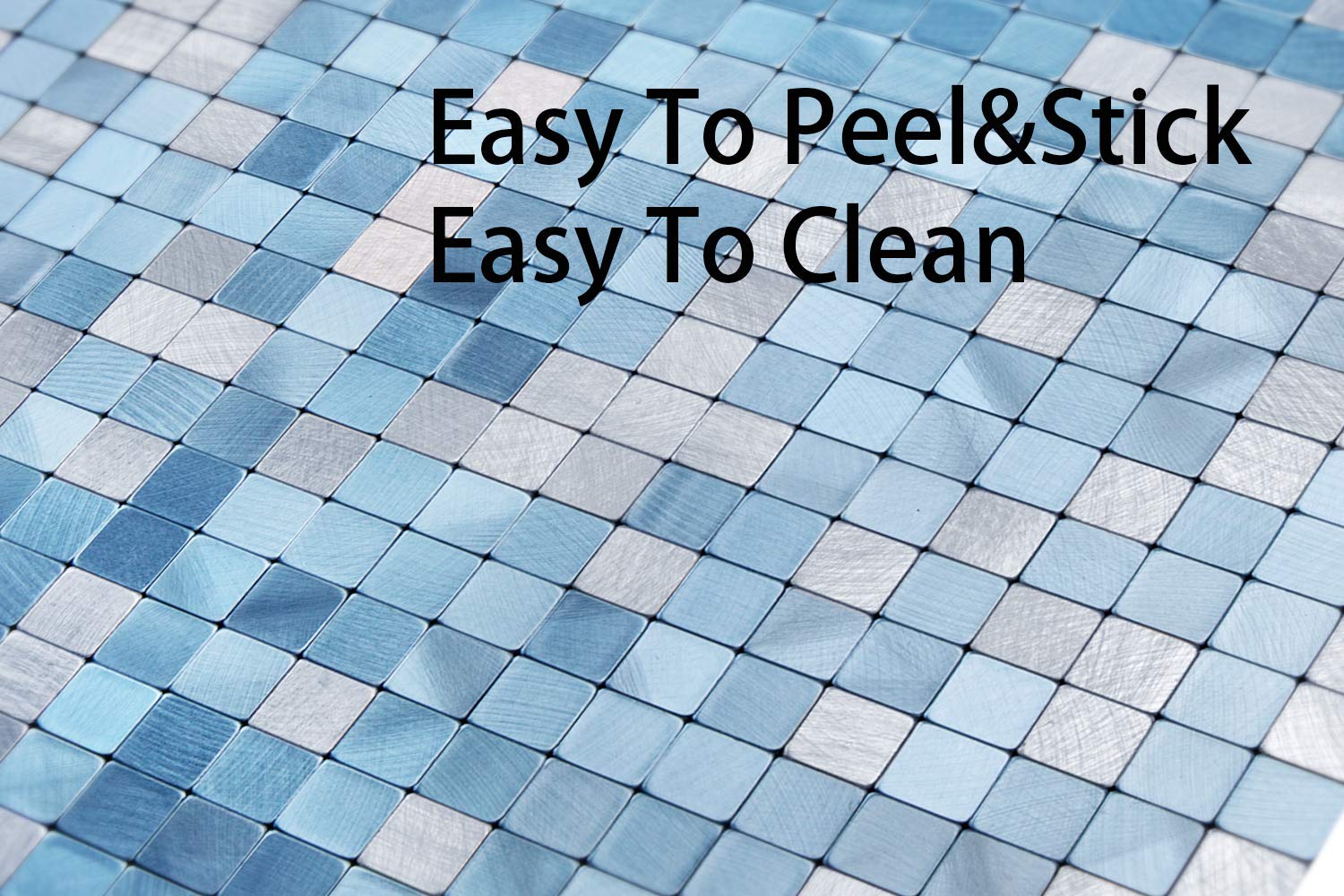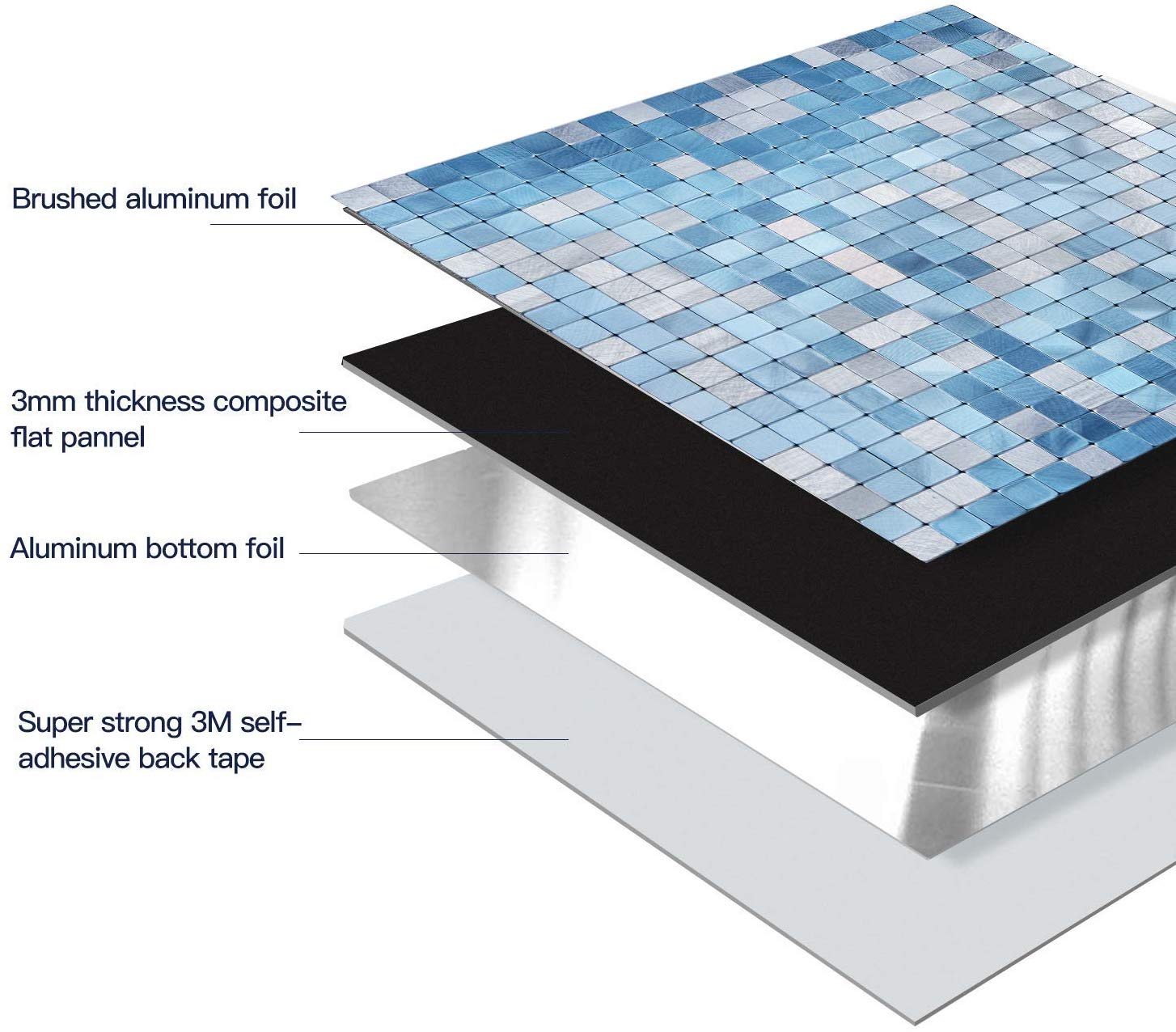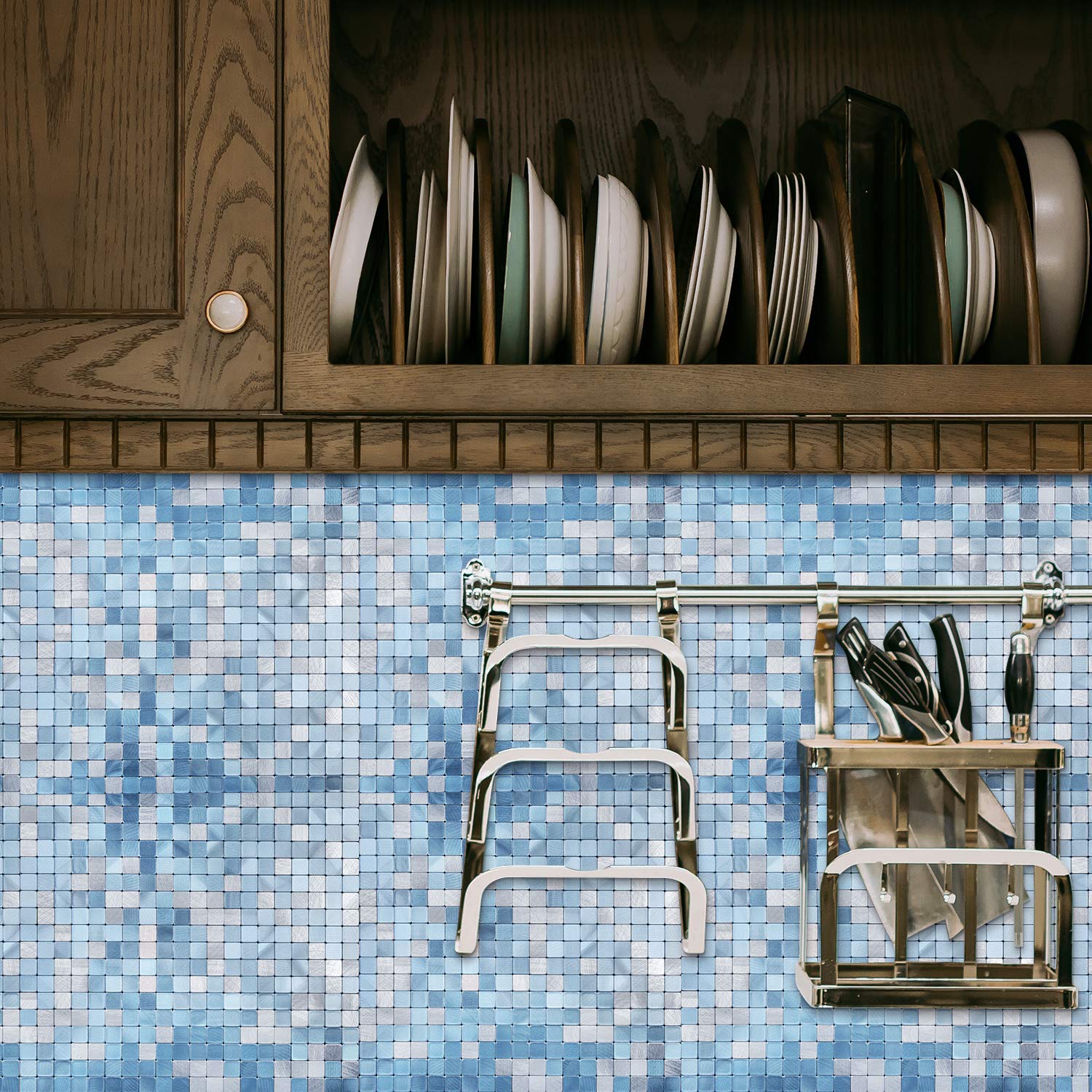 1. What is the size of each sheet? How do you measure it?


There are 5 sheets in a packet. Depending on the design, the size of each sheet is 12 x 12 x 0.4 inches.
It usually needs 11 sheets to cover 1sqm.


2. Can I put it on existing tiles? What surface can be applied?


If your tiles have smooth surfaces, you can apply HomeyMosaic Tiles over existing tiles including grout lines.
* Partial list of ideal surfaces for HomeyMosaic Tiles: smooth ceramic tiled splashback, smooth glass tiles splashback, wall panel(acrylic), wall linoleum, mirror, wallpaper.
* Partial list of dusty and porous surfaces that are NOT recommended: stucco wall, stone wall, unfinished wall(gypsum or plaster), unpainted plywood.
3. Are they suitable for use behind the cooktop in a kitchen?


HomeyMosaic Tiles are humidity & heat resistant. It's also not damaged by hot oil. It is suitable for use in kitchen or bathroom splashbacks.
To install HomeyMosaic Tiles behind a gas cooktop without a protective rear panel, allow a length of 20 cm, above the surface to prevent the tiles from coming in contact with open flame.


4. Are these bendable? Can I cut tiles easily?
HomeyMosaic Tiles are bendable. The tile is 3D and the thickness of the tile is about 0.4inches. It can be installed on the curve of the wall or on the edge of the wall. You can easily cut HomeyMosaic Tiles with a box cutter or a pair of scissors.

5. What is the material of the tile?


Tiles are Aluminum-plastic. Tiles are 3-D gel effect self adhesive wall tiles. HomeyMosaic Tiles are humidity & heat resistant.
It is suitable for use in kitchen or bathroom splashbacks.It looks the same as a real ceramic tile.


6. Can I use it in the shower? Is it waterproof??


We do not recommend using our tiles in the shower.
The surface of our tiles is waterproof, but overlapping parts can be weakened in places where there is a lot of water like a shower.
Please make sure that your walls are completely dry, and put overlapping parts carefully when you install tiles.
After that, there should be no issues with the moisture.


7. Is it suitable for painted plywood?


If your plywood have smooth surfaces, you can apply HomeyMosaic Tiles onto plywood. For optimal adhesiveness, you can also gently scrub surface using a soft sand-paper to soften the rough surface.


8. How do I clean it?


For cleaning, simply use a sponge to restore the shine of HomeyMosaic Tiles.
Use a mild non-abrasive household cleaning product such as dish soap, a cream cleanser or a glass cleaner.


9. Do you have a retail shop? I want to see a sample.


Unfortunately, we currently do not have a retail shop.


10. Is it possible to pick up? Can you send it by express?


Pick up is not possible. We will ship it as soon as possible.
You can choose express post when you place your order. It usually takes 1~3 business days.


11. Is there a phone number?


We currently do not contact customers via phone.
If you have any questions, please E-mail or send a message on the web page.


12. How do I remove Tiles


In order to remove the tiles, you need to apply concentrated heat(use a hair dryer) and then use some force to pull the tiles off. (Cooktop heat won't cause the tiles peeling off)
If you stick it on ceramic tiles, it will leave no residue, but if you put it on painted wall, you may lose some spots on the painted wall.


13. Can it be used for caravan or camper?


It is very lighter than ceramic tiles. It is perfect for your caravan.
Just check the smooth wall surface and the temperature inside the camper. During installation, the ambient temperature must be at least 18 °C and should not exceed 35 °C.(not too hot and not too cold.)
14. What is the return policy?
If you have not used tiles, you can return tiles in 4 weeks.
If you need to return an item, Please email us with your order details or send us a message on the webpage.

Your cart is currently empty.